FOREVER BLOWING BUBBLES

If you're looking for a great a sweet Paranormal Romance, this is it!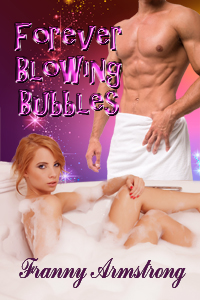 Click here to download

ISBN-13: 978-1535540728

ISBN-10: 1535540729


Publisher: Franny Armstrong
Genre: paranormal romance



Gemini Knight loves being a witch, though her five older witch sisters and wizard uncle cringe each time she tries out one of her new spells. She's an adorable, bumbling witch who accidentally pops into the bedroom of Braxton Thorn, a powerful wizard, and finds him in the buff. Immediately she disappears leaving only her tinkling laughter behind.

Brax can't figure out how the witch got past his protective spells and blocks, and seeks her out, only to find that she's also covered her trail. When Brax takes one look into her mischievous green eyes he falls head-over-heels in love with her, especially when she lands him in a Dumpster and he finds himself laughing for the first time he can remember.

The Knights and the Thornes have had a truce between the families for more than twenty years. Only Isabel Thorne and the girl's uncle, Wilbur Knight, can remember what the family feud was about.

The real magic will be to keep the families from feuding once again while bonding with each other, making their speedy marriage strong, no matter what their siblings do to keep them apart. They have their work cut out for them.



EXCERPT


Pulling out his cell phone, Brax called his office and told them he wouldn't be in that day. By the silence on the other end, he knew the receptionist was shocked. He'd never missed a day of work in the past fifteen years since his father had died, and he'd taken over the reins.

Parking on the street, he fed the meter with change rather than using his magic to set the time. There were dozens of stores to search, making the task seem impossible. Closing his eyes he concentrated on her. Soon the Mystical Styles sign above the beauty salon glowed. She was in there. Getting her hair cut, he thought.

Crossing the street, he walked slowly by the shop, not seeing her inside.

"Well, there's no going around it, I have to go in," he muttered.

The thought of entering a ladies' hair salon was intimidating at best. Since he was a man who would take on any challenge, he took a deep breath, and opened the door.

Every eye in the place focused on him. Smiling, he said, "Hello. Do you have a stylist here with short red hair? She cut my hair some time back, though I can't remember her name."

A blond lady rushed up to him, and he realized that it was the woman that had been with the red-head the first time she came to his room. He didn't think she recognized him though.

"Gem is in the back right now, but I can take you in ten minutes," she said, breathless as she stared up at him.

"I'm sorry, but I'd really like to stick with Gem, if you don't mind."

Though appearing to be disappointed, she nodded, and pointed to a styling chair. "Please, have a seat and I'll get her."

"Thank you," he said and walked over to the chair fitting his large body in it. Silence still reigned, and he waved his hand so that the customers and stylists would forget he was there.

He didn't wait long. Gem herself came out, wearing black-rimmed glasses that didn't suit her. She rushed up, and began taking his hair out of the ponytail.

"Hello, sir. I'm sorry to keep you waiting. How would you like your hair styled today?" she asked then pulled his hair forward looking at him in the mirror. When she gasped as recognition dawned, he grabbed her wrist, and was transported with her.

Seconds later, they reappeared, standing knee-deep in a food Dumpster. He pulled a banana peel off his shoulder, and helped her remove spaghetti noodles from her hair.

Then, for the first time in his adult life, he started laughing.