Click HERE to purchase Earth's Treasure Canada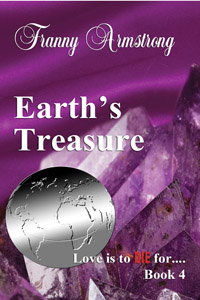 Click HERE to purchase Earth's Treasure USA
Click HERE to purchase Earth's Treasure in ebook


Paranormal Romance (psychics)
Love scenes, language.
ISBN-10: 1532760612
ISBN-13: 1532760612
book ISBN: 9781370398898
193 pages
She's running for her life...
He found her in his dreams...
Can the white light bind them together?
Dr. Kylene Kinney has the power to heal on a psychic level. She'd become a lab rat at a pharmaceutical company, and fears for the lives of her family and friends if she's captured again. When she meets Taran, he becomes her warrior, offering his heart to her.
Taran McCoy's element is Earth. He carved an image of the woman of his dreams out of wood. When she walked into his life, he vowed to protect her with his. Linked to his brothers and grandfather, the modern day Ojibwa warrior uses his psychic abilities to keep her safe.
When Taran's sisters are kidnapped, Kylene is determined to save them herself, but her actions may take down his entire family. Together they must face life and death, or run forever...
EXCERPT:
The fire crackled as Taran kissed Kylene, taking his time. Lifting his head, he asked, "Are you sure, Kylene? I don't want you to wake up tomorrow with regrets.
"My only regret would be in not being with you. I can't explain it, Taran, but I've never been so drawn to someone before. My experience with sex has been poor at best. I thought at one point that I would end up married, but…he died. Since then, I've just…existed, never actually living or enjoying life." Staring up at him, she placed her palm on his cheek, and whispered, "You give me hope."
His lips captured hers again, and he groaned, pulling her close. His fingers tugged gently at the ties that held her hair, then freed it, combing through the soft curls. He released her lips, his kisses burning trails along her neck, sending shivers up along her spine.
Kylene released his hair too, staring at it with mirth.
"What's so funny, Buttercup?" he asked.
"I've never met a man with hair longer than mine before. It kind of pisses me off." Laughing aloud now, she grinned.
"Well, give me a minute then." He made as if he was going to head to the kitchen, but she stopped him.
"Where are you going?" She giggled.
"To get the scissors of course! I mean, I've had long hair all my life, but if it pisses you off, then off it comes!" He cried, "Ouch," when she gently yanked a strand.
"Not on your life. I'll let it grow on me. Let it be." Reaching up, she gripped two handfuls, and pulled his head down so that their lips met, giving him a passionate kiss, her tongue sliding over his. This time his moans were not from her pulling his hair.