AMAZON INTRIGUE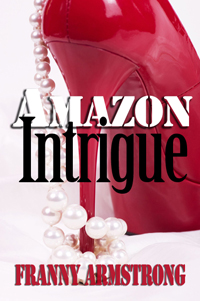 Click HERE to purchase Amazon Intrigue:

Published: Aug. 01, 2014

Words: 82,710

Language: English

ISBN: 9781311330352
To purchase:
https://www.smashwords.com/books/view/457540


When Rune Greyson accepts a job as an Administrative Assistant for a Brazilian drug lord, Lorenzo Dallas, she Amazon Intriguestirs up more trouble than he can handle. Terrified servants and guards cringe when they see her coming. Rune is the biggest klutz on the planet, or so it seems. She's also an undercover agent for the Canadian Secret Investigation Services, sent to gather information on Lorenzo Dallas, so that CSIS can bring him to justice.

After a grueling year of missions around the world with little sleep, Zander Morgan is ready to burnout. Still he accepts the job to bring back crucial information from the Brazilian contact about Lorenzo. He's told to look for the person wearing a frog pin, and say the secret code words 'Mantella laevigata' which is Latin for the 'Green Climbing Mantella Frog'. Mantella meaning friend.

Drug lord, Lorenzo Dallas, watches Rune walk across the compound every day without error. His wife, Marissa, wants her gone from their lives, jealous of the attention Rune gets from him. From his office window, Lorenzo gifts Zander with the sight of the most beautiful, woman he's ever seen. When she bends over to pick up a flower and the guards go flying into the thorn bushes, screaming in pain, he is stunned!

Shaking his head, Zander finds it hard to believe that someone could be so clumsy, and is amazed when he sees that she is the one wearing the frog pin! Reluctantly, he says the secret code word and finds out she is indeed his contact! Together they must battle, not only Lorenzo, but their own hearts to save a country in trouble.

EXCERPT

As she lay on the bed waiting for Zander, Rune bit her lip in an attempt to stem the desire racing through her body. Zander had so much in common with her. The energy he gave off was like a lightning rod, luring her highly charged body like a beacon. She wanted to become more involved with him but fought her attraction.

The water stopped running in the washroom, yet he didn't come out. A few minutes later, it started again. She was puzzled. He acted like he didn't want a sexual relationship with her, but his kisses, his hands, his thick heated rod against her belly told a whole different story.

She still had so much to tell him of her past six months at the compound, but her mind and her body had different objectives.

When the door opened, Zander hurried to the bed, climbing under the covers.

With a loud squeak, Rune pulled away.

"Zander, your…ah, you're freezing!"

With a sheepish grin on his face, he lay back on the pillow, and whispered, "Sorry, Rune. But it's not exactly easy being near you and…maintaining control."

His eyes spoke volumes as she studied them and she realized that she felt the same about him. How could they concentrate on their jobs when all they could think about was each other?

"I think, partner, that we have to do some damage control."

His eyes filled with question, he waited for her to continue.

The easiest way for her to say it was to jump right in, as she had in the pool. In a quick move, she pushed him back on the mattress and covered his body with hers.

"We need to integrate, Zander.